Leather lined shoes always interest me, they're typically more forgiving and absorbent than synthetics, so when New Look and H&M both started to sell their premium quality collections which both incorporated a number of shoes all of which were leather inner and upper. Next though is my disappointment, they retail typically around from £40 going all the way to £65! Now £65 for a pair of shoes is nothing, but dropping a that much on one item at New Look or H&M does seem a little perverse.
My concern is I've paid less for new Nicholas Kirkwoods, and Charlotte Olympias, now is it at all possible that the materials can hold up against what the luxury brands use? Still leather will always be more comfortable, and there are few pairs that are quite appealing, but personally I don't think I would pay full price for them, on the other hand they are a few sandals on sale right now which might work quite well for summer.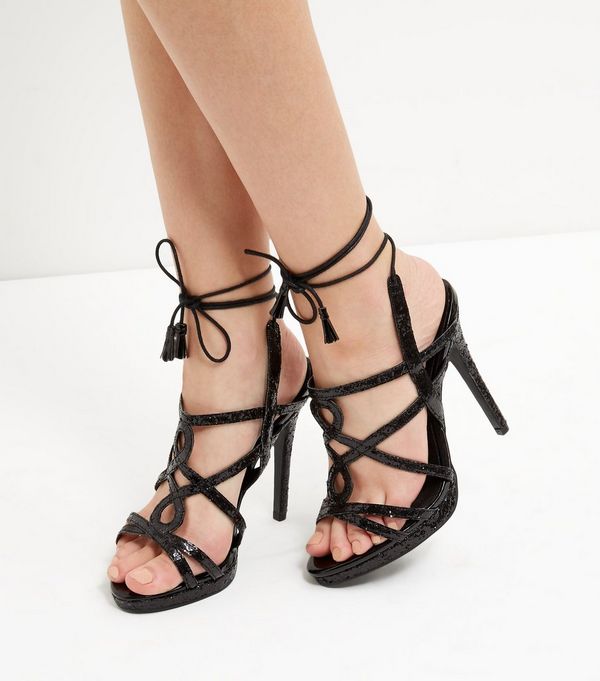 The lace up look is really popular right and at £22 they're
worth getting

Marks and Spencer also did a season of superior quality shoes a few years ago, as part of their Autograph line. It was marketed as Italian luxury, and priced accordingly at around £150 per pair, now clearly that was a little too much for the average M&S customer, and I definitely wouldn't have paid three figures for such a pair of shoes. I was fortunate enough to pick up a pair from the Freeport outlet for considerably less, and I can say that their quality and materials easily beat Made in Italy offerings from &Other Stories or Bodum or Karen Millen.
Some of my friends couldn't believe these are M&S, they're so remarkably well made the only complaint is the upper is bonded to the inner rather than stitched. They're the perfect canvas for customisation too, and I would certainly buy them again.
There are also these on the H&M website which again are quite cool right now, at £30 they're a pretty good deal. However I would take a look on the Karen Millen and Bodum websites for what offers they have too as there are some really good deals right now too.
<